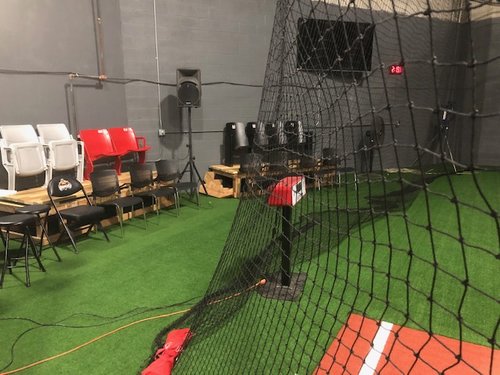 Whether you are training for baseball, softball, lacrosse, cricket or soccer – We have the space for you. Take advantage of our unobstructed Turf Field and 22′ batting cages.
Note: 3 players max per cage rental. Teams refer to Team Rental page.
Batting Cage or Pitching Lane Rental – 30 min – $30 or 1 Hour – $45
HitTax Rental Non-Members – 30 min – $40 or 1 Hour $70
Field Rental – 1/2 Field – 30 min – $50, 1/2 Field – 60 min – $100
Members
Up to 8 FREE half-hour cage sessions each week (max 2 sessions per day)
Access to the '1/2 Big Field' can be reserved 24-hr in advanced (max 2 per month). Fees apply for additional.
HitTrax – 30 min – $20 or 1 Hour $40
Up to 15% Discounts on camps, classes and lesson packages.
Baseball – Softball – Lacrosse – Cricket – Soccer
Winter, Spring, Summer, Fall… when it's bad weather, MVP Sports Academy in Lake Zurich, has you covered. Give your team the benefit of practice all year long. Take advantage of our 28,000 square feet of turfed and perfectly-lit training space, as well as all of our equipment: pitching machines, tees, L-screens and pitcher's mounds. Plus, our staff of professional coaches are available to bring your squad expert instruction.
Teams can have use of:
Live Batting Practice cages – Iron Mike, BATA & Hack Attach pitching machines
6,200 square foot infield for practice, drills, live games
Pitching tunnels with or without pitcher's mound
House supplied baseballs and softballs
No refunds will be issued. In the event of closing due to act of God (Covid-19) you have 6 months past last contractual date to reschedule.
Call us to reserve your team practices now.